Great Northeastern War, 2013
With all the moving, it was hard to stay involved in the SCA. I couldn't hold onto all of my gear, and I didn't know the folks in my local areas during my Economic Walkabout. But since I'm now a permanent resident of Portland, it was easy to make the short drive to Hebron, Maine for GNEW. And it didn't hurt that I've made a bunch of new friends.
Old Folks, New Folks
My usual SCA crowd couldn't make it because Pennsic was moved up this year. The two events were just too close together, and there would barely be time to get home and wash things before having to pack them all up again. That left me wondering if I should go at all. Then I found out that one of my friends might go as a vendor, so I upgraded to a day-trip.
And then, after a dinner and a beer with some of the local SCA types, my plan upgraded again. I already had one friend in the local group that I had met in 2009, and she introduced me to some of her peeps. We all seemed to get along pretty well. (They don't know me well enough to run away yet.) Armed with the knowledge that Camille and her group would be around, and that I wouldn't just be wandering alone all the time, I decided to camp from Friday to Sunday.
Family in Tow and a Hot Dog
Cara decided that she didn't want to be alone for the weekend, so she volunteered to camp. I was a little worried at first since we would have to bring Dublin, but it's a dog-friendly event and we live close enough to take them home if we need to. We decided to give it a shot and see how things went. GNEW was Cara and Dublin's first SCA event ever.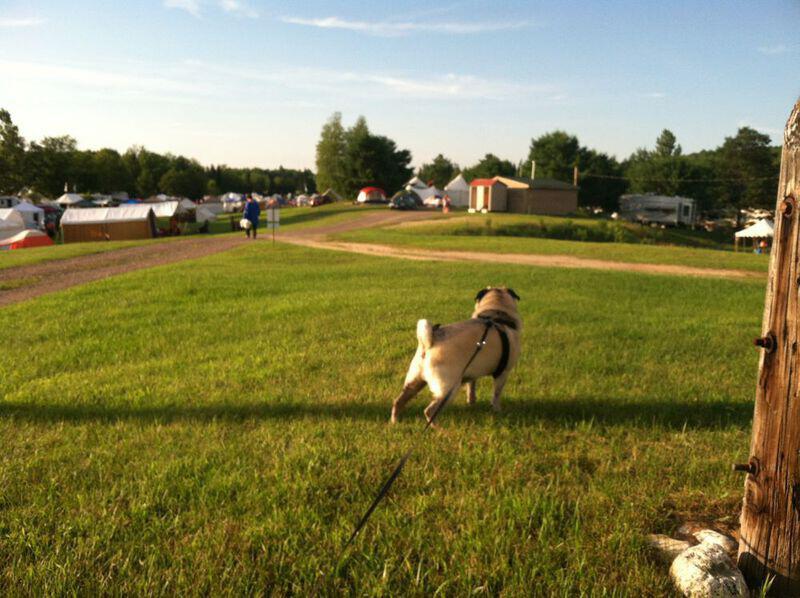 Sadly, Dublin couldn't take the heat during the day or the cold at night. And since we were near the bath house, there was noise and conversation well into the night. This is normal for SCA events, of course. Who wants to go to bed on time during a vacation? But unfortunately it was enough to keep Cara awake, and Dublin couldn't seem to get settled. When I came in to join them later, I could see that they weren't comfortable.
After a short walk around Merchant Row, I took a tired wife and an exhausted dog home on Saturday morning and returned for the rest of GNEW. On the bright side, Cara isn't against future events. She just wants to day-trip instead of camping.
Baconpaloosa
This party happened on Friday night. People donate bacon, which gets cooked up and passes around. At the time of this recording, they were up to 61 pounds. I'm not sure how far they went by the end of the night, but I'm told that a finishing total of more than a hundred is not uncommon.
It was an excellent party with good people and great food. I'm going to attend next year, and I'll be sure to bring my pound to donate.
Fencing Again
I didn't get a bunch of pics or vids at this event, but I did get some. I'm a bit disappointed that my old iPhone 4 does so poorly with white clothes on a bright day, but at least I can give you a quick look at a few of them.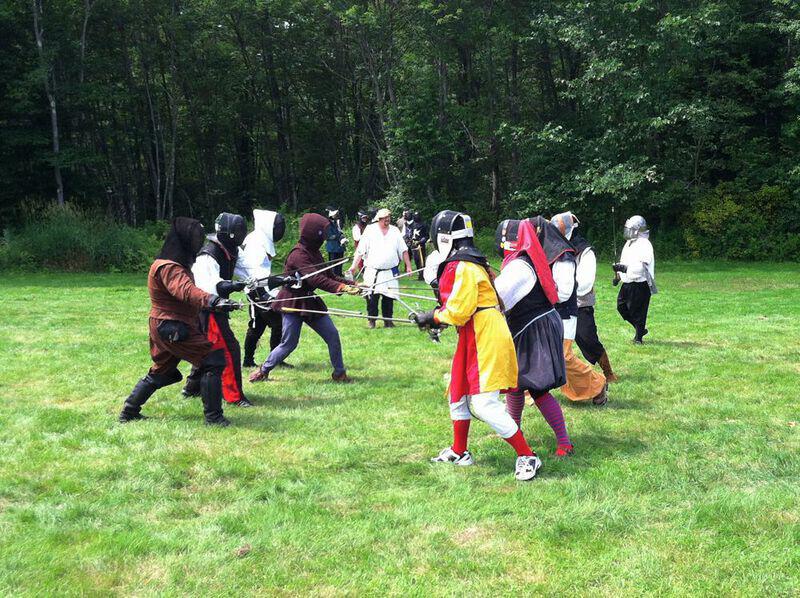 Over all, this event was a win for me. I got to show some of the event to my wife, I made new friends, and I had a wonderful time. I saw fencing and heavy list fighting and merchants and bacon, and other assorted cool stuff. And best of all, I felt right at home.
On both nights, I was able to do my very favorite SCA activity. Sit around the fire with friends and have a few laughs under starlight. I laughed harder on Saturday night than I have in a long time, and the stars… oh, man. All I can tell you is this: if you're ever out in the country at night, be sure to walk away from all the lights and take a long look at the sky. You'll be glad you did.
View Album on Flickr