Private Bridge Run with the Wife
We couldn't make it to the Cooper River Bridge Run in Charleston this year, so we ran our own little 10K here in Portland. I was originally going to do this on my own, but Cara guessed my plan and volunteered to join me. She got a little more than she expected, though. The wind was murder.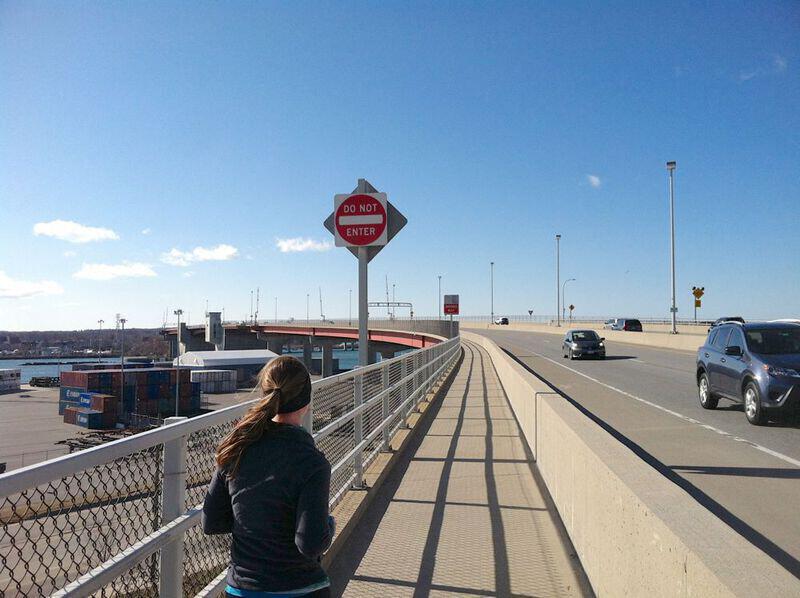 We were okay at first, but while we ran the length of the bridge we were being forcibly chilled. According to my weather app, the wind chill was taking the temperature down from 28°F to 16°F. I'm better in the cold than she is, so I was okay once I warmed up. Cara's more of a summer person, so she was pretty much in Hell the entire time.
After getting to the other end, I mixed up my distances and thought we needed to turn around at 3K instead 5K. (I was thinking in miles, for some reason. Shame on me.) We took a left turn off the main road, which pretty much killed the out-and-back route I had planned. Cara wanted to go home.
So instead of continuing deeper into South Portland, we looped around to a park where we could take a walkway up to the bridge. Once we hit the Portland side of the Bay, we were at our half-way point. 5K. With another 5K to go, and Cara already frozen. But we wanted to do the whole thing, so we kept going.
The thing is, Portland isn't exactly on a regular grid. Without a specific route, it's hard to get home at exactly the distance you want. Since Cara didn't want to do any more hills, we had to take a longer loop around the peninsula that turned our 10K into an 11K. Cara normally works out indoors, and the most she typically runs is 5K. She was hurting.
So as I write this, she's on the couch under a few blankets with a biological space heater pug on top of her. She's had some Starbucks and cheese, and she's getting some well-deserved rest. She's a little bitter, though. All those folks in Charleston were wearing t-shirts in a warm, sunny park today. But even though we were cold, we got to run beside the ocean, right? That has to count for something.
View Album on Flickr