80. ZombiesRun Virtual Race, Fall 2015, 5K
After dismissing them as silly wastes of money for a long time, I finally wound up doing a virtual race. This one was special, though. This one had goodies, zombies and a real way to track the times of the runners involved. It was from Six to Start, and it was fantastic.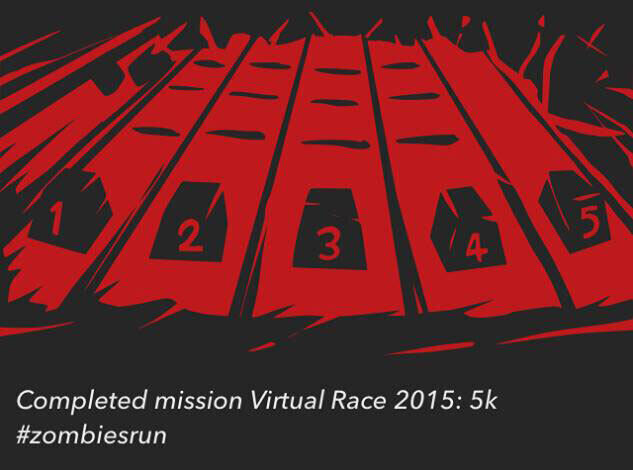 I've written about this app before, and I still can't say enough good things about ZombiesRun or the folks who make it, Six to Start. They make exercise stuff with cool audio content, not just for zombies but for other genres as well. If you have trouble, they respond and help you fix it. And best of all, they listen to their fans. They use our feedback to refine the app and make everything better for everyone.
They didn't even pay me to say that. In fact, I paid them so I could say that. I buy their stuff pretty regular. But I digress…
Virtual Zombies
Some time ago, we all got a survey in our apps asking if we would be interested in a virtual race. I'm not normally into those because they lack the sense of community that live races have, and also because of the logistics of keeping everyone's time straight. You can't really have a winner since everyone runs a different course, and you can't even get proper placing because of the various ways people send in their times.
It's way different for ZR. The app tracks us every day, so that's not an issue. And Six to Start opened a forum for race participants, bringing all of us together into a wonderful community with new friendships popping up everywhere. And to top it all off, they made a special mission just for the race. We had a race with content! I happily voted "yes" on the survey, just like plenty of other people. The devs got the message and the race was put together.
There were 5K and 10K missions available for the virtual race. We were allowed to run both of them as many times as we liked within a week. That week was a bit crazy for me, so I was more fond of the flexibility than the volume. I just wanted to run each of them one time so I could get my name on the leader boards.
Not my First Rodeo
I actually ran this one second, but due to a weird design choice my 10K was posted to the leader boards as "Anonymous". (I'll get into that when I write about the 10K.) When I ran the 5K I was more familiar with the mission and I was able to knock it out without any trouble. I did my 5K on Wednesday, October 28 2015, and my official time was 27:29. This is different from the time on my mission page because the race records the point where you actually reach the finishing distance.
My wife is a baker, so we get up pretty early in my house. Add that to the fact that I'm in Maine nowadays and you have a dark, dark morning. I've benched the puggle for the colder seasons, so I ran this one alone. I may have been a tiny bit slower because I was relying upon the headlamp, but the difference seems negligible. It's a good headlamp.
Because it was a race, I hit the road a little harder and ran a little faster. It was pretty sweet. And afterward I was able to post my victory on the forums where people liked my post and I liked their posts and just about everybody was happy.
Well done, Six to Start. More races, please.