All Kinds of Weather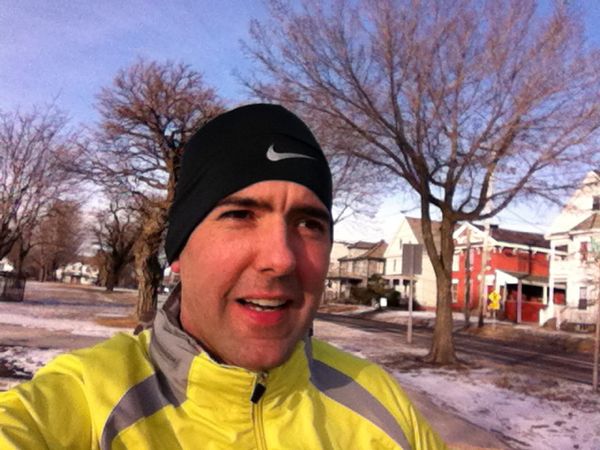 It's been a couple of weeks since I moved back to Burlington, Vermont. It seems longer, of course. Since returning, I've seen temperatures below zero. I've had my handy Carhartt and some other gear, so I was prepared. Strangely enough, I seem to be a better New Englander than Cara is. I mean, I actually like the snow. I enjoy a walk on a cold morning.
It goes without saying that my running schedule is has been blown straight to hell. I don't have gear for temperatures below… well, maybe 20 degrees Fahrenheit. Maybe 30F. The ambient temperature is bad enough when it's just 10F outside, but then there's wind and ice. Oh, yes… there's ice. Bad enough when things are generally frozen, but when temperatures drift above and below the freezing point, you end up with a thin film of ice over everything.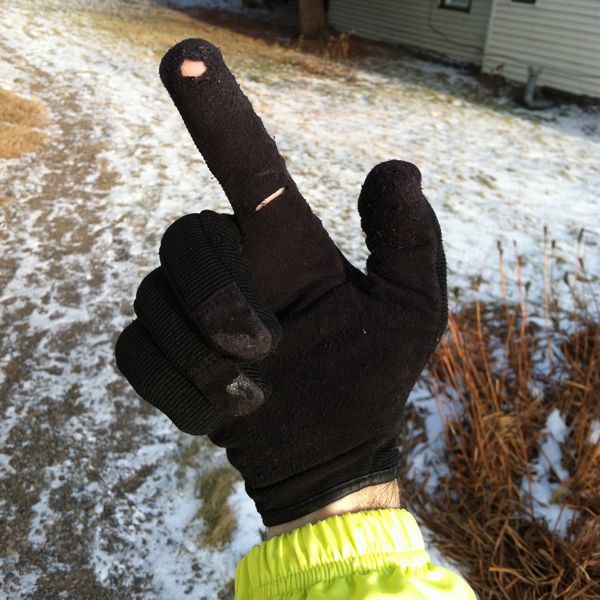 But there are ways. I'm not a true winter runner yet, but I'm learning. I have some Due North spikes to wrap around my shoes, tights, a face wrap to cover my, uh, face… and some layers. Plus, it helps to have some old gloves with strategic holes in them which allow fingertip access to an iPhone.
There are plenty of other tricks to winter running, but I only know a few of them. I'm not experienced enough to head out there in all kinds of weather. There are still days when it's just too cold outside. I've only been out lately because the weather has been a bit milder lately. With morning temperatures over 40F, I can't just pull the covers over my head. I don't even need my tights for that.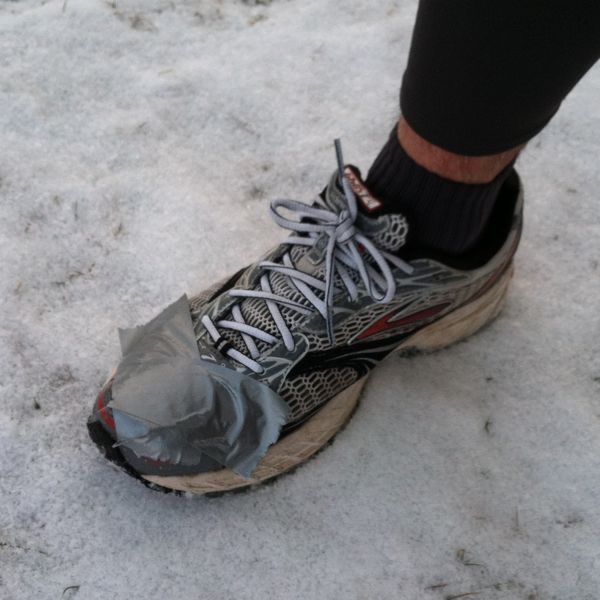 So I suppose the moral of this story is versatility. There's usually a way to get something done if you really want to achieve it. Personally, I've gone up a couple of pants sizes in the past year, and there's only one way to remedy the situation: I gotta get out there on a regular basis.
Fortunately, I live in a Runner-Friendly town now, and every day brings me closer to Spring. In fact, I think I'm going to run another marathon. Burlington has one in May, so I should be back to my first-date weight by my wedding day in June.
So if the temp stays above 20F, I'll be out there again tomorrow before sunrise for a simple 5K run. I'll dodge puddles of melted snow on the sidewalks, and watch out for the still-frozen grass on either side. No spikes tomorrow. Probably no tights, but really… that depends upon the weather.