Hulk Feet Split Shoes
Not only do I have the typically ugly feet of a runner, but mine are also exceptionally wide. It's been tough to find shoes that fit properly without leaving bunches of room in the toe, but I thought I had managed it. Until now.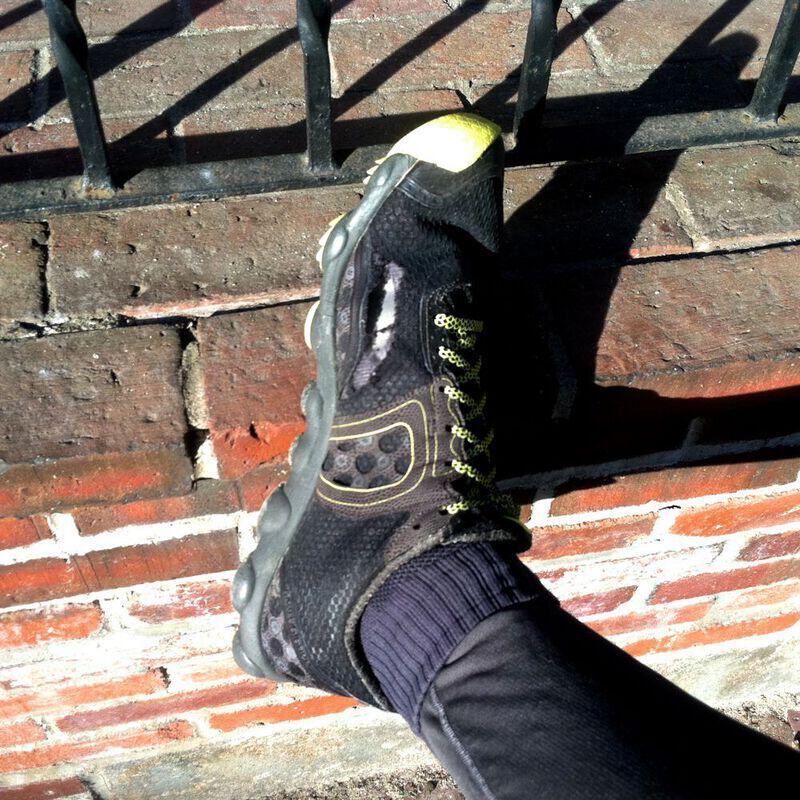 When I say that I have wide feet, what I really mean is that I have an enormous knuckle-type-thing at the base of my big toes. It's almost like I have gorilla feet or something. It's handy when I want to monkey-grab something on a hard-wood floor, but it can be a problem when buying shoes. I thought I had it figured out when I bought my minimals, but things went south when I was crossing a snow bank.
As I stepped in some carefully chosen non-yellow snow, I felt a bit colder on the left side of my right foot. I couldn't believe it. It's almost like my foot-knuckle was trying to escape. I worried a little over whether shoes would still be viable, but it seems to be okay. There's an inner layer of white material that's holding together quite well, so I hoped that the damage is merely cosmetic.
So far, It seems that I was right. I've run several times since then, and my shoe is still holding. I even went for a 10K today to take advantage of the not-so-bitter cold and sunshine. Check out this photo I took from the Casco Bay Bridge.
If the shoes keep holding up, then my only problem will be the insanely bitter cold that New England keeps throwing at me. Well… that and my next running shoe purchase.